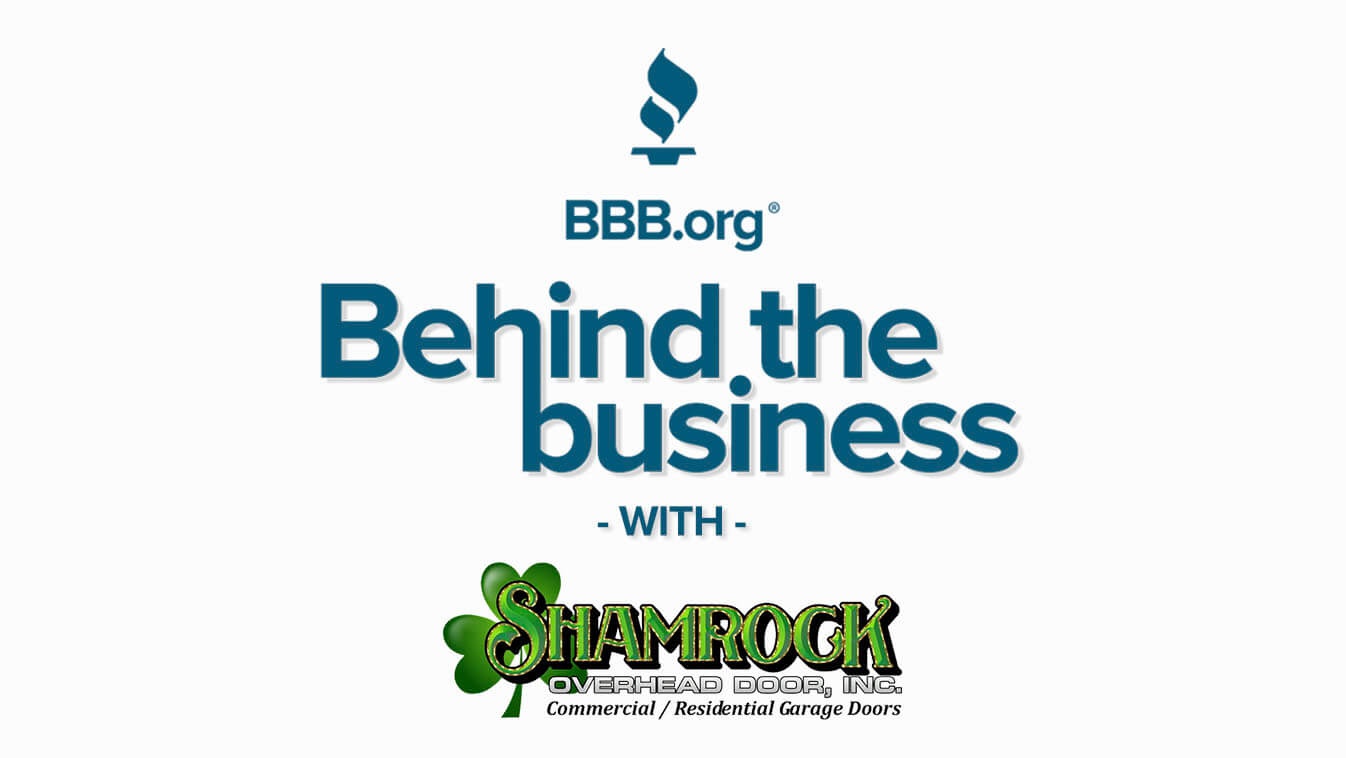 Dina and Joshua Smith answer questions from a work truck as they pick up their kids from school. "If we couldn't multi-task, we wouldn't be in business," Dina says. Celebrating 12 years as a company this year, the owners of Shamrock Overhead Door Inc. in Walpole, Massachusetts, couldn't be more proud of their family-run business.
Shamrock Overhead Door was born out of necessity and raised in adversity. In 2009, both Dina and Josh Smith had completed their military service and were excited for life after the Army. Josh served for six years, enlisting in the Massachusetts Army National Guard and ultimately deploying to Afghanistan in support of Operation Enduring Freedom.
Feature My Business in 'Behind the Business' Series
Dina finished earlier and had secured housing in time for Josh's return and the birth of their first child. They were young, in their early 20s, and eager to start the next phase of life as a family.
Sadly, it wasn't the new start they had imagined. Josh found part time jobs, but solid career prospects were few and far between due to the poor economy. They knew they had to do something, something better. "Recessions help you dig in and figure out what you're good at," Dina says of that crossroads moment. "When your back is against the wall, failure is not an option."
Josh knew he was good at garage door installation. He knew he and Dina were both tough, resilient, and hard working. He knew they had the desire to be successful but didn't know how to get started. "Before my mother passed in 2010, she gave me a little book called The Secret," Josh says. "It helped transform our lives."
With a never-say-die outlook, Smith bought a business license at the town hall with their last $40 and immediately got to work. He visited construction sites in surrounding towns. He knocked on doors of houses that looked like they could use a new garage door. He spent time with anyone who would talk to him until eventually, he landed a client. One client turned into two, then a dozen as their reputation for outstanding work and service grew in southern Middlesex County, Massachusetts.
Shamrock and the Smiths continued to thrive until 2015. A nine-alarm fire destroyed their warehouse and office, burning their business to the ground. Years of products, tools, and files were lost in an instant. The only piece of Shamrock Overhead Door to survive was a work truck Josh happened to be driving that day. The rebound was not easy. Now a family of four, the Smiths relocated to Virginia for a job Josh had secured. They regrouped, putting the pieces of their lives together while repaying deposits on jobs that they had accepted before the fire. "It took a long time to recover not only business assets, but morale. Probably two years," Dina remembers of that time.
Meanwhile, customers continued to reach out with well wishes, leaving supportive online reviews. Contractors asked when they'd be back and if they were available for new jobs.
Now a team of seven, Josh and Dina work hard to create a positive work environment rooted in accountability. The Smiths believe that if they stay accountable to their customers and to each other, Shamrock will continue to succeed. They discuss wins and losses from the day, continuously looking for opportunities to grow and improve. Everyone at Shamrock is encouraged to set personal and professional goals at the beginning of the week. Then they meet at the end of the week to discuss progress, holding each other accountable and offering support as a team. Josh leads Shamrock's version of After-action Reviews (AARs), a practice he learned in the Army used to collect lessons learned at the end of big jobs. In these ways, they stay in-tune with not only their customers, but their team.
At the center of Shamrock Overhead Door is a true sense of family. Dina and Josh work side by side every day, managing different aspects of their business. Even the kids help out and can often be found sporting Shamrock shirts around town.
As their business has grown, so has their relationship with Walpole and surrounding towns. Shamrock may never have resurrected from the ashes of the 2015 fire were it not for the continued support of the community. Shamrock aims to give hope to others, and regularly gives back by supporting local events and fundraisers, particularly for first responders. "Our business and our home are both here. We see our customers around town," says Josh. "It's important to us to keep families and businesses safe through the products and services we provide."
And their reputation is growing. With an A+ rating from the Better Business Bureau for the tenth year in a row, and as proud members of the International Door Association as well as the Professional Door Association of New England, the Smiths believe Shamrock Overhead Door is thriving. For more on Shamrock, visit shamrockoverheaddoor.com or read their BBB Business Profile. To learn more about BBB and read more stories like this, visit BBB.org.
Bolstered by the support from their New England community, the Smiths found their way back, this time to Walpole, Massachusetts. They decided to reopen Shamrock Overhead Door bigger and better than before.
When asked what's helped them on this incredible journey, the answer is threefold: adaptability, accountability, and family. Since returning to New England, Shamrock has found a way to thrive. The Smiths believe that to succeed they must evolve, looking to the future with what they call a "tomorrow mindset." They have more installations than service calls these days. They have large commercial jobs where they were once purely residential. They welcome technology made for small businesses and are implementing a new CRM to streamline sales and service processes. They remain adaptable and responsive, welcoming new ideas from clients and employees. "This is how we've stayed in business," says Dina. "We've learned to build on ashes."
Alana Belk | June 3, 2022